Putting the members back in the driver's seat!

"Power concedes nothing without a demand. It never did and it never will."

Frederick Douglass
Our purpose: Mobilize and empower the membership to fight for core union values; solidarity, equal pay for equal work, democracy, accountability in leadership, and dignity in retirement.
Sign The Petition: The undersigned demand Unifor leadership provide full disclosure of the contents of the contract, 5 days before ratification, by publishing all revisions, additions, deletions and changes to the contract, clearly marked, on the Unifor National website and the websites of the locals involved in 'Detroit Three' bargaining. The UAW does this with their 'white book' We also demand that the ratification highlights include a clear statement of all money and benefits negotiated on behalf of union representatives and any money or benefits negotiated to be paid to the Locals and/or National Union.
We need a union that's fighting forward. Bob White said "Workers don't need a union to walk them backwards…". Workers can't afford any more deals with greedy employers backed by slippery politicians. Its time to start fighting like hell.
_______________________________________________________
Posters and Handouts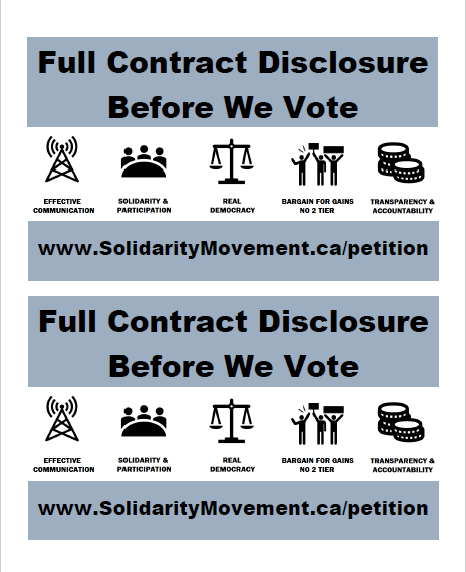 We have had a tremendous response to our petition from members who are on Facebook. There are many more people who may not spend a lot of time on social media that must be reached. Some people have asked us for posters or handouts they can use to help spread the word.
Click on the buttons below for posters and handouts that can be downloaded and printed. Share them where appropriate. Make sure you follow Covid-19 safety rules and plant rules about posting or distributing literature.
There are versions that can be cut in two or four and there is a full-page poster. There is also a flyer that includes the wording of the petition and the reasons we are circulating it.