Solidarity Movement Letter to Mary Barra and Scott Bell
When GM ended vehicle production in Oshawa on December 18, 2019 it meant the elimination of 5,000 jobs. Some senior GM employees were eligible for full pensions plus an incentive. Junior GM workers, especially tier two workers and TPTs were eligible for much less. Most of the over 2,000 supplier workers had no options and received the statutory minimum or slightly more. Now that GM is restarting pickup truck assembly they have announced that they will hire 1,500 assembly workers. This letter was sent to General Motors on May 31, 2021 urging GM to offer the new jobs to the workers they displaced in 2019:
May 31, 2021
Sent via Email
Mary Barra, Chairman and CEO, General Motors Company
Scott Bell, President and Managing Director, General Motors Canada
RE: The hiring of displaced workers, including supplier and support workers at the GM Oshawa Assembly Plant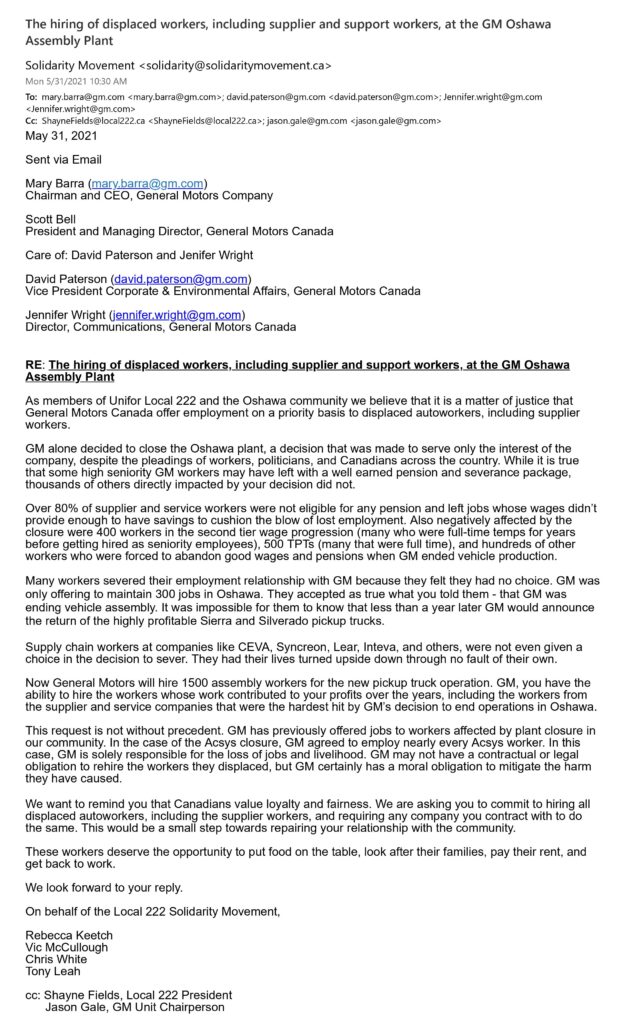 As members of Unifor Local 222 and the Oshawa community we believe that it is a matter of justice that General Motors Canada offer employment on a priority basis to displaced autoworkers, including supplier workers.
GM alone decided to close the Oshawa plant, a decision that was made to serve only the interest of the company, despite the pleadings of workers, politicians, and Canadians across the country. While it is true that some high seniority GM workers may have left with a well earned pension and severance package, thousands of others directly impacted by your decision did not.
Over 80% of supplier and service workers were not eligible for any pension and left jobs whose wages didn't provide enough to have savings to cushion the blow of lost employment. Also negatively affected by the closure were 400 workers in the second tier wage progression (many who were full-time temps for years before getting hired as seniority employees), 500 TPTs (many that were full time), and hundreds of other workers who were forced to abandon good wages and pensions when GM ended vehicle production.
Many workers severed their employment relationship with GM because they felt they had no choice. GM was only offering to maintain 300 jobs in Oshawa. They accepted as true what you told them – that GM was ending vehicle assembly. It was impossible for them to know that less than a year later GM would announce the return of the highly profitable Sierra and Silverado pickup trucks.
Supply chain workers at companies like CEVA, Syncreon, Lear, Inteva, and others, were not even given a choice in the decision to sever. They had their lives turned upside down through no fault of their own.
Now General Motors will hire 1500 assembly workers for the new pickup truck operation. GM, you have the ability to hire the workers whose work contributed to your profits over the years, including the workers from the supplier and service companies that were the hardest hit by GM's decision to end operations in Oshawa.
This request is not without precedent. GM has previously offered jobs to workers affected by plant closure in our community. In the case of the Acsys closure, GM agreed to employ nearly every Acsys worker. In this case, GM is solely responsible for the loss of jobs and livelihood. GM may not have a contractual or legal obligation to rehire the workers they displaced, but GM certainly has a moral obligation to mitigate the harm they have caused.
We want to remind you that Canadians value loyalty and fairness. We are asking you to commit to hiring all displaced autoworkers, including the supplier workers, and requiring any company you contract with to do the same. This would be a small step towards repairing your relationship with the community.
These workers deserve the opportunity to put food on the table, look after their families, pay their rent, and get back to work.
We look forward to your reply.
On behalf of the Local 222 Solidarity Movement,
Rebecca Keetch, Vic McCullough, Chris White, Tony Leah
Original letter: http://solidaritymovement.ca/wp-content/uploads/2021/06/Displaced-Worker-Letter-to-GM-May-2021-1-pg-pdf.pdf